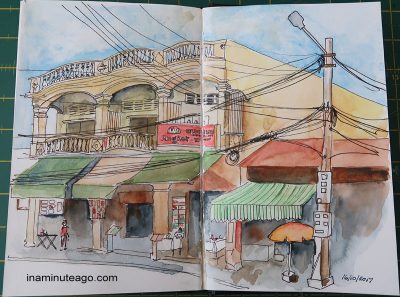 It's been a while since I have written here and there is a reason for that. You see, I was stalled. In the past I have had phases of being stalled but not like this one. This was a full scale creative block I had, of course, heard of things like creative block or writers block but I had not realised these periods of time could last so long.
Bear with me while I give you some background – make a cuppa, I will tell you the story and while also sharing some sketching eye candy with you. (Click on any of the images for a larger version.)  I will describe what I think may have caused my block, what happened, how I attempted to shake myself out of it and move forward, and finally what kicked me out of my creative blues.
A while ago, I did a soft re-launch of this site after I finished writing my book The Visual Guide to Crazy Quilting Design
. Jerry had just retired – which is a huge change in our life.  Then I caught a seriously bad flu just before I went to Europe to walk the Camino de Santiago in Spain. The flu hung around for 2 months but that is another story.
The camino is a pilgrimage walk of  500 miles (800 Kilometres) from St Jean Pied-de-Port in France to Santiago de Compostela in Spain. This amazing experience has been described as 'epic' and it is. It took us about 6 weeks to walk, carrying our packs. Jerry wrote about our trek.  You can find an index of his posts here. Needless to say you can't walk 800 kilometres, carrying a pack, sleeping in dorms and generally traveling pretty rough, without thinking at least a little about your life. Before I left, I knew I was heading fast to burn out stage and one of the reasons I walked the camino is that I knew I needed to take some time out and regroup. It worked a treat but re-grouping phase just took a bit longer than I anticipated!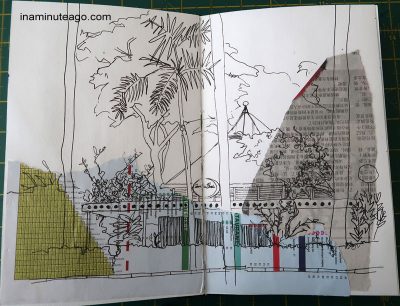 When we returned home I kept up my sketching and I wrote in my journal daily, but it all felt very flat and dull and I knew I just did not have the energy to do things as well as I would have liked. But I did keep at it. I knew I needed time just to faff about and not worry about digging out online resources that people would find useful, researching techniques or artists etc or sharing publicly my own stuff. So I just slowed everything down. I did keep sketching and writing but the whole process was hard for me. I was back to observing the world and only that. I took some time offline and just focussed on unplugged activities. In other words, I simply sketched for sketching's sake and just wrote about my day in a notebook.
We went to the monthly Urban Sketchers meet up regularly and every month at the throw down (where urban sketchers lay their sketchbooks out so everyone can see what they have done) I was always interested in what other people did but inevitably hated what I had done. I learnt that the hard thing about creative blocks is that often you have to go through a phase of producing blah stuff that just makes you feel even more blah! Anyway, I went along month after month feeling rubbish about work and with little energy but this point is key: I enjoyed the company of my fellow sketchers.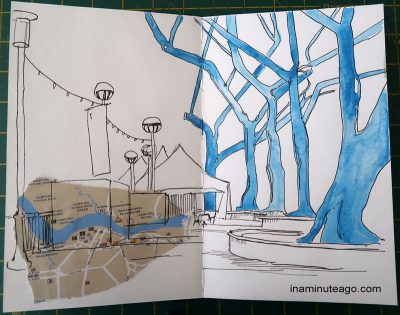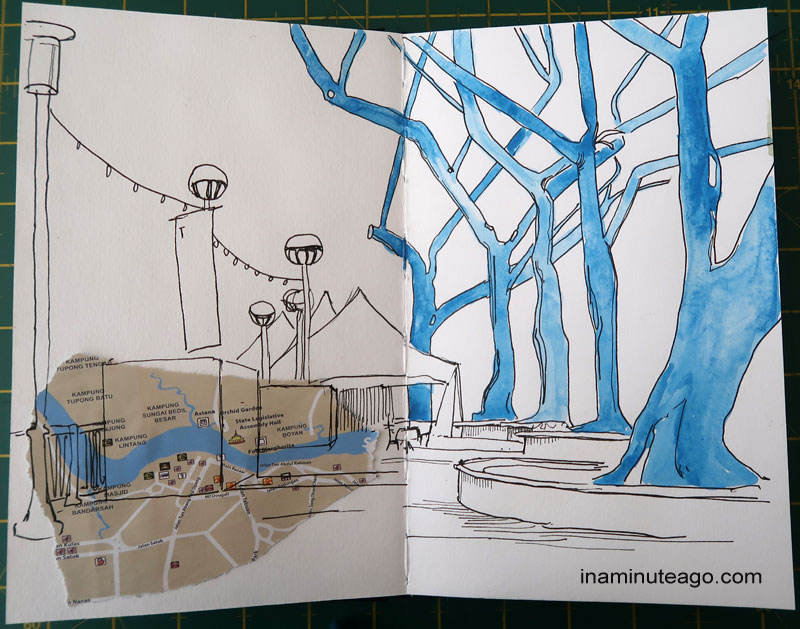 When the 2017 Urban Sketchers Asia Link Sketchwalk was announced – I saw it would be in Kuching in East Malaysia on the island of Borneo,  we decided to go. We also thought it would be fun to go on to Cambodia afterwards, as neither of us had seen the amazing temples at Angkor Wat in Siem Reap Province. To my delight, a number of fellow Aussie sketchers were thinking along the same lines.  It proved to be the best thing I could do – and a turning point for me.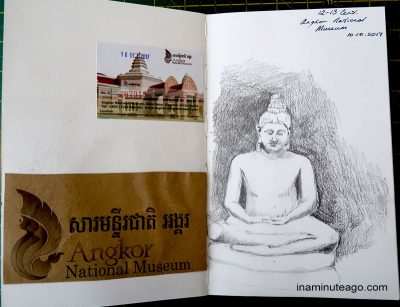 The first few days in Kuching were very shaky. I had, what had become my usual reaction to my work of wanting to throw it away. In other words, a negative pattern of thought had developed. At one point, I really did wonder why I had come, what I was doing, who did I think I was etc. That was the crisis point. I looked at the way I was thinking about my sketching and decided I was not going to let my own thought processes undermine me. You see, what has started out a stall point many months previously, had now become an issue in my mind and I was the compounding the problem.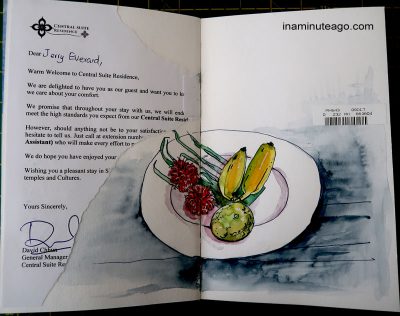 My turning point was when I started to tell myself "just draw – don't let other pointless babble interfere" so just like a mindfulness meditation practice, I set out to draw and if I noticed that my mind was wandering towards negative thoughts I brought it back to the process of observation and recording what I saw. I focused on just doing what I came to Kuching to do and that was draw and spend time with other people who also loved to sketch.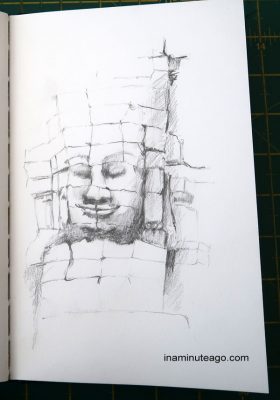 Now I am not saying that you have to sit down with a gin and tonic in the heart of Borneo to get past a creative block but my point is that I did a few things to break out of a creative dip. I learnt a few lessons I thought I would share them.
I prioritised what was of importance to me. In other words I took a break from my online routine.
I kept at it. Even though I did not like what I was producing I kept drawing at least once a week and I wrote daily.
I broke a negative pattern by doing something different (Okay, visiting Borneo and Cambodia could be seen to be doing something radically different) but the main thing is that I got out of my usual space to get a fresh perspective.
I made sure I had people around me who supported me and fed my creativity.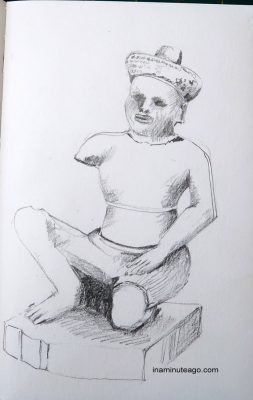 I am not saying my sketches are particularly good or anything great. They are not meant to be Art with a capital A but they did record my trip and that is what I wanted to achieve.  Most importantly the pleasure I have in sketching or writing about my day has returned. After a thinking about it I think I am ready to start writing about sketching and journaling again.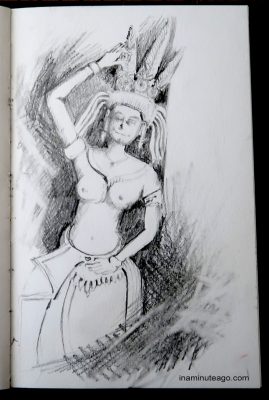 You can have Inaminuteago delivered to your inbox by using the follow feature in the sidebar. Just enter your email address, and when you get the confirmation email make sure you say yes and you are all set!
If you are on a mobile or tablet you will need to scroll to the bottom to find the follow feature.
SaveSave