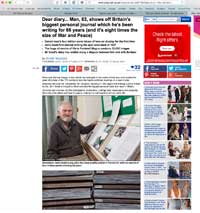 John Gadd is an 83 year old diarist who over his lifetime has filled 151 volumes with four million words. His journals weigh in at half-a-tonne. In his journal he also includes photographs, illustrations, cuttings from newspapers and everyday items like food wrappers, tickets, and mementos. These bits of ephemera add to the story of one man's life. His diary starts in 1947 and has been kept ever since which means his diary is eight times the size of War and Peace
John Gadd said 'To begin with the diary was quite hard work and pretty boring. But after a few years I started being honest with myself and thought 'what the hell am I doing this for if I can't tell the truth?'
Follow the link for the full article Dear diary… Man, 83, shows off Britain's biggest personal journal which he's been writing for 66 years and images of John Gadd's journals
In a Minute Ago delivered to your inbox
Use the subscribe feature in the sidebar. Enter your email address, and when you get the confirmation email make sure you activate it and you are all set!
If you are on a mobile or tablet you will need to scroll to the bottom to find the subscribe feature.