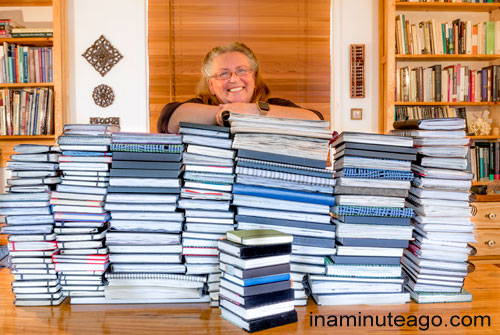 Do you keep a journal? I have been squirrelling away my thoughts in one for almost 30 years. Today, I will share with you why I keep a journal. I encourage readers to take some time out every day – take some self-time and enjoy the process of writing. Journaling is a very worthwhile, practical and interesting thing for anyone to do. Journaling does not take too much time in any one day, but to gain benefit from the process you do need to be consistent. It is one of those activities that the more you do it the more you gain.
For me, a journal is a constant process. I use a journal literally to make sense of the day. As I reflect upon my life, recording my thoughts via word or sketch, it helps me make sense of the world. As an example, often in school, you sort out what you think about a topic as you are writing an essay. A journal does the same thing. Through writing about something, you can make sense of it.
A journal is something you do for you. It is time out to think – away from responsibilities and obligations. This is self-time, not selfie time. It is away from social media, work and domestic tasks. It is time used to record what you have observed in the day. What you notice and what you choose to record is unique, and that is what makes your journal special. It captures your view of the world.  With a journal, you literally notice – and take note of – your life. A journal trains you to notice the big and small details in your life, and keeps it there for future reflection.
For me, a journal increases observation and helps me to think beyond the obvious. I have the habit of looking for what I call "journal fodder". This active looking has meant I have developed a respect for the everyday. I am sure, without my journal, I would not have noticed how even the everyday can become of interest over time. For instance, in my journals, I recorded how these new things called CDs were going to replace vinyl records. I could not imagine at the time that I would witness the disappearance of vinyl. I also noticed changes, such as the introduction of the Walkman, then the Discman, then MP3 players and on through to iPods, while seeing even each of those technologies become superseded themselves. Technology is something that has changed everybody's life, yet most people think it either too geeky or too mundane to write about.  I recorded how 3¼-inch floppy disks were so easy to use after storing data on 8-inch disks. Who today still uses a floppy disk?
My journal was a place to record the rise of the internet. I described pre-internet days and how the universities 'connected together and shared information'. I also recorded world events like the fall of the Berlin Wall, the terrorist attack on the Twin Towers etc and simple little things like recipes, supermarket shopping, and store sales etc. – all this is currently changing with online shopping. I learnt that working a little, consistently, leads to achievements so I have become more intentional in many of my pursuits. This intentionality and focus adds depth and texture to my life.
Most articles that encourage readers to keep a journal emphasise that a journal is a great way to store memories but I would like to add that journaling makes memories. What do I mean by that? While writing a journal or sketching in a journal, you notice more about your day. Think about the process for a moment. When writing a journal you need to recall what happened in your day, then write it down. In this process of writing, you have consolidated the memory in your mind. You have reminded yourself of something that happened in the morning, which, if you had not taken time to write about, would have simply slipped away in the whirlwind of daily activity. Retelling and recording what you do each day builds and consolidates memories. Do it often enough and you will remember more of your life.
A journal helps me to keep personal priorities in focus. It is very easy to be caught up in Doing, yes Doing with a capital D as it becomes just that. Sometimes I need to ask if this or that activity will lead to where I want to go. In a journal, I can question current priorities and redefine them if need be. I can explore whether this or that priority is still appropriate or I may decide to spend my time in a different way. A journal is a safe private place to weigh the pros and cons of an idea. You can set out both sides and in the process be very clear about what you mean and what the implications might be. In other words, journalling speeds up a decision process.
When you keep a journal, you have a place to remind yourself of your goals, and a place to celebrate your wins. When you keep a journal you also have an obvious place to track your progress too. Working towards a long-term goal becomes easier if you can record each step toward the dream. Each small step is affirmed along the way making the journey towards your goal easier.
A journal can help you over stall points. If you are working on a big project and feel directionless, overwhelmed or have hit a stall point writing about it can really help. Describing and writing about the project makes you focus on what you want to achieve and defines clearly the project. This focus will help you list what needs to be done, helps you understand with greater clarity the scope of the project. By putting it down on paper you can get a hold of the thing. You can break it down into smaller achievable steps and this will naturally lead to you being able to see how to structure the project. By defining and structuring the project you are taking control and that action counters feeling overwhelmed by it.
Keeping a journal is not only for goal setting. A journal can be a place of deep reflection allowing you to connect with your core values. Sometimes we need to remind ourselves what our ethical stance is on this or that. Sometimes our ethics slide but in a journal can bring something into focus. For example, if we think recycling is really important we can remind ourselves of that value and do it!
A journal can help you develop a creative skill such as writing or drawing. If you want to write or draw, a journal is a good place to practice. The journal becomes a record of your skill development. Many professional writers advise you to write daily. Artists keep sketchbooks in order to draw daily. A journal is a place to do it and practice! Over time, these creative skills will get better and you will be able to look back and see your progress.
Keeping a journal can promote good mental health. Over the last 20 years or so science-based studies have demonstrated that there are beneficial effects on both physical and mental health in writing regularly. Even blogging has its health benefits! This article in Scientific American points to research that indicates writing produces many physiological benefits.
Journaling is inexpensive, as all you need to start is a cheap notebook and ballpoint pen. Of course, as your journal habit develops, you can indulge in all sorts of nice notebooks and pens but basically, that is your choice. Low cost means journalling is accessible.
For the amount of time you put into a journal, you get so much more back. That is why I do it. What are your thoughts about Journalling? Do you keep a journal? Do stall points prevent you from journalling? If so you could journal about them! Leave a comment if you are in the mood to tell me what you think. Next, I will share some tips on how to keep a journal.
Subscribe!
Have Inaminuteago delivered to your inbox by using the 'follow' feature in the sidebar. Just enter your email address, and when you get the confirmation email, make sure you say 'yes' and you are all set!
If you are on a mobile or tablet you will need to scroll to the bottom to find the 'follow' feature.




SaveSave
SaveSaveSaveSave