We attended an informal urban sketchers meeting at the National  Carillion building followed by a picnic.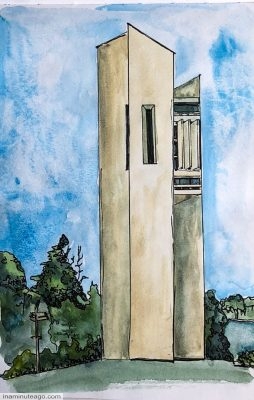 I thought I would share my efforts. This was the last page in my  Stillman and Birn Alpha series landscape (9 x 6, 22.9 cm x 15.2 cm) sketchbook (150 gsm white medium grain surface paper). I used water colours and Pitt pens.
As usual it was a fun morning getting together with sketching buddies.
If you are interested in Urban sketching, the Canberra Urban Sketchers group meet on the second Sunday of the month and everyone is welcome. We often have other informal meetings too so check out what is happening on the Canberra Urban Sketchers Facebook page
Have Inaminuteago delivered to your inbox by using the 'follow' feature in the sidebar. If you are on a mobile or tablet you will need to scroll to the bottom to find the 'follow' feature. Just enter your email address, and when you get the confirmation email make sure you say yes and you are all set!