When you visit London there is so much see and do that long trips on public transport in the quest of art supplies is not fun or practical. So, here are 3 art shops in London that are in zone one the very heart of the city. All 3 are situated near major attractions so you don't have to go far out of way to add a bit of art supply shopping to your day.
Please note: I am not affiliated with any of these businesses. Neither have I received any goods or financial compensation for writing the article. I am simply sharing the art shops in London that I have discovered.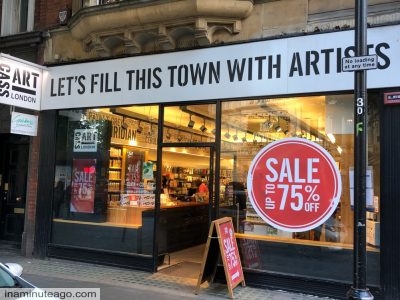 The first place I recommend is my favorite because Cass Art's pricing policy of supplying good brands at affordable prices. They don't have everything but what they do offer is very good value. I never visit London without checking out their stock. I often stock up on watercolour paints while I am there as they are half the price I pay in Australia. Cass Art is a chain of Art stores across Britain recognizable by their slogan "Lets fill this town with artists" and the Charing Cross store is not far from Leicester Square.
If you are approaching from the Leister Square tube station you exit the station and walk down towards Trafalgar Square, where most people visit the National Gallery or the National Portrait Gallery. As you walk down the road you will see the store. So you can stop in and shop on the way to seeing some of the popular sites of London.
Cass Art's full address is 13 Charing Cross Road, London.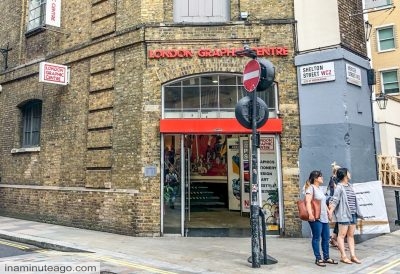 London Graphic Centre has their flagship store in Covent Garden literally a street away from the Covent Garden Tube station. The building has two floors of arts supplies. You can sense that the London Graphic Centre has their roots in Graphic design, and the fine arts. I always enjoy browsing the full range of materials. I could fill my basket with pens, pencils, notebooks, paper, and card. There is loads of variety that is reasonably priced. I always find new products to experiment with.
London Graphic Centre's full address is 16-18 Shelton Street, Covent Garden. London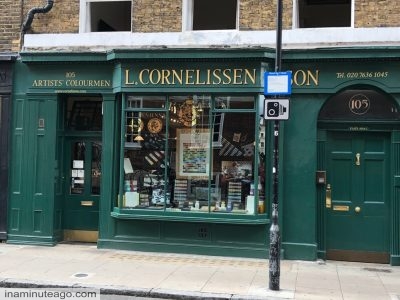 L.Cornelissen & Son is literally down the road from the British museum. This is a charming traditional store with an old world feel. I love seeing the raw pigments, the colours are always a creativity spark for me, but I am getting side tracked.
This store stocks a full range of art supplies oils, watercolours, gouache and traditional supplies such as egg tempera. It is worth visiting this store just for atmosphere. What surprises me is that even though it is right in middle of touristy London its prices are reasonable.
L.Cornelissen & Son's full address is 105A Great Russell Street Bloomsbury, London.
I hope you check out and enjoy these art shops in London!
Enjoy this? Please subscribe
Have Inaminuteago delivered to your inbox by using the 'follow' feature in the sidebar. If you are on a mobile or tablet you will need to scroll to the bottom to find the 'follow' feature. Just enter your email address, and when you get the confirmation email make sure you say yes and you are all set!