All That Jazz Katrina fundraiser crazy quilt blocks
Cathrine Byatt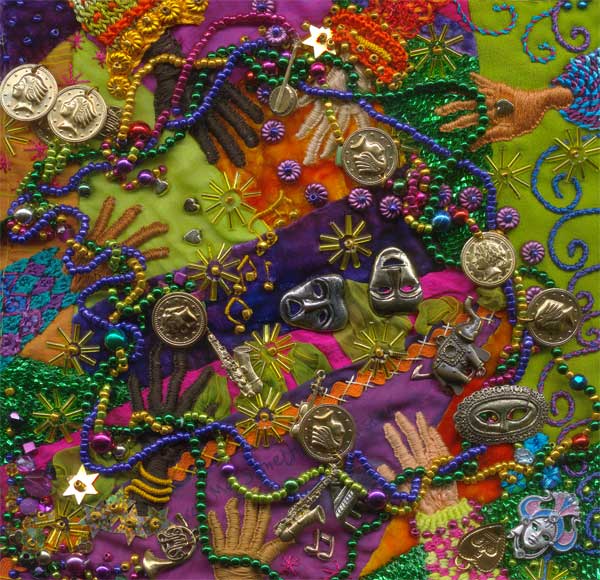 Cathrine Byatt : statement
"All That Jazz" has been a most engrossing project and allowed me much reflection on tragic world events, natural and man-made.
I began the creative process by researching the New Orleans Mardi Gras on the web. It was then that I decided to call my block "Throw Me Something, Mister!", the catch-cry of the Mardi Gras. The idea is that you call this out to the Krewe on the Floats and they throw beads and tokens (and more beads!) to you, if you're lucky. The more I thought about it, the more I felt for the people who've been trapped- under buildings, under mudslides...not only during the devastion caused by Hurricane Katrina in America, but during all the terrible
disasters across the world, across history. How would it feel to be so alone, so helpless and hopeless? I can hardly bear to imagine the claustrophobia and overwhelming need to hold another person's hand. To me, the cry of "Throw me Something, Mister!" then became even more poignant. The cry, from a person trapped, would be for air, water, a rope, a hand, hope....
I re-read the brief. The block was to be bright and happy, a celebration that re-building takes place, life goes on.
I pieced the block using my brightest Mardi Gras colours. I gathered up threads and beads and charms. And the block sat there vacant for weeks. I couldn't get past that image...
My block is now complete. It's a riotous, colourful snapshot of the Mardi Gras Parade street scene- joyous and optimistic and crowded! Amongst the beads (and there are heaps of them, just as a Mardi Gras should have), are the seven hands, reaching in from all the Continents of the Globe, in a gesture of love and support.
My little guy is there too. In memory of all the precious lives lost. He won't be forgotten and neither should he be. Life does go on. I would like to thank everyone involved in this Project, particularly the organisers, Sharon Boggon and Annie Whitsed, Linda Barraclough and Pam Kellog, for throwing some hope to the Survivors now facing a long and difficult struggle to recovery.
© Cathrine Byatt