All That Jazz Katrina fundraiser crazy quilt blocks
Mary-Frances Main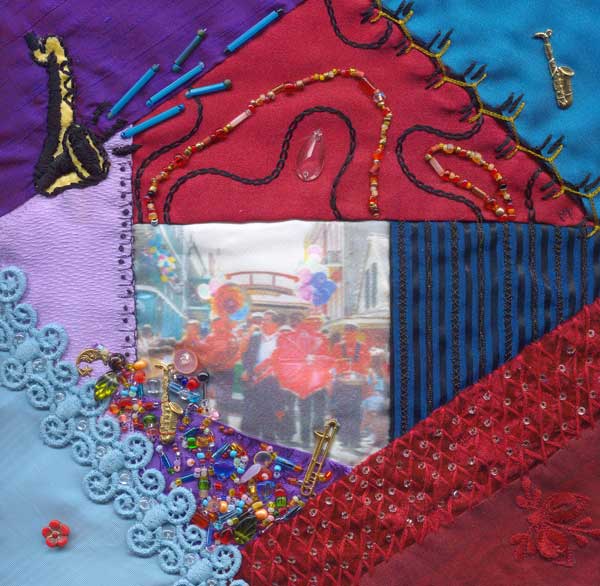 Mary-Frances Main : statement
For inspiration on my block I went to the internet and searched for bands in New Orleans. The "Storyville Stompers" seemed to embody my idea of New Orleans.
"One New Orleans tradition that the Storyville Stompers help to perpetuate is the colorful second-line parade when audiences dance behind the strolling brass band waving handkerchiefs or twirling decorated umbrellas, becoming part of a festive entourage. The grand marshal, clad in crisp tuxedo, sash,
and matching umbrella, leads the band and everybody dances. The band can parade through functions or escort groups to restaurants, riverboats, and other destinations in this great New Orleans style."
From the Biography portion of their website: http://www.storyvillestompers.com/
This seemed to give me the inspiration I needed (thus the photo in the center of the band) - while focusing a bit on music, hopefully it caught a bit of the glitz and history of New Orleans as well!
I don't have any personal connections with New Orleans, but their style and traditional glamour that are just on the edge of chaos and festivity has always appealed to me! Here's to their rebuilding and recreation as "bigger and better"!
Mary-Frances Main keeps a blog Frequently Wrong, But Never in Doubt.
© Mary-Frances Main