All That Jazz Katrina fundraiser crazy quilt blocks
Valeri Bennett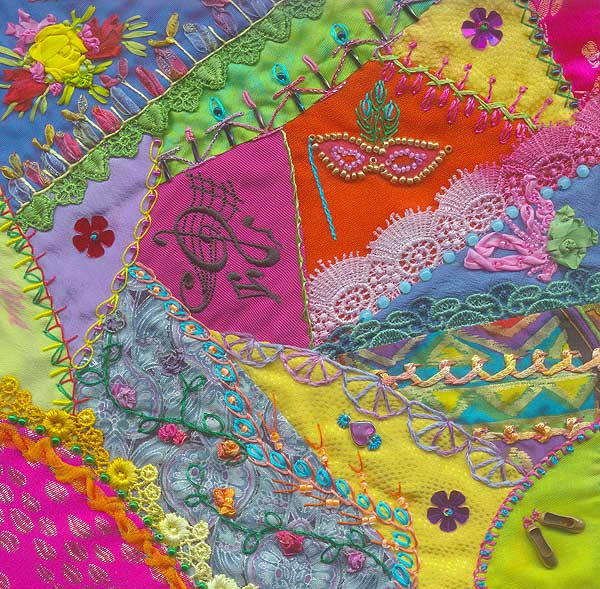 Valeri Bennett : statement
I had great fun sewing this block and was very pleased with the basic block before I started stitching on it. The fabrics and composition were to me very 'carnival' in their colours and shapes.
The musical note I machine embroidered onto a piece of fabric before I started putting the block together. I felt that it ought to be fairly prominent with regard to the theme "All that Jazz" so it went into the centre of the block. Well not quite the centre but almost. Then I added in some braids and laces to represent the flounces of the exotic costumes that the dances wear at carnival time. And to add to that theme I put the little dancing shoes in a corner. The colours of the threads were chosen for the bright alive feel of the carnival time. And I tried to show flowers sprawling over the balconies and the warmth of New Orleans in general. The mask was another thing that I associate with balls and Mardi Gras. And I love beads! No crazy patchwork block would be complete without beads.
All in all I had a great time with this block. I hope that all who look at it will get the feeling of sunshine, laughter, noise, perfume, thrills, jazz, excitement, and most of all the bright gaudy colours which epitomise carnivals.
Valeri Bennett Falmouth UK, November 2005
Valeri Bennett of Farne designs in the UK who is also a blogger as she keeps Dyeing 2 Sew Valeri is textile artist who is both an instructor and has exhibited her work internationally.
©Valeri Bennett