All That Jazz Katrina fundraiser crazy quilt blocks
Linda Barraclough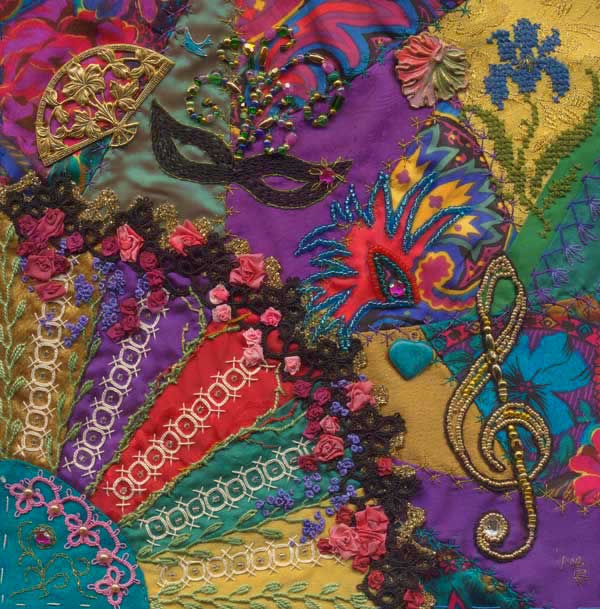 Linda Barraclough : statement
This block comes from Briagolong, a small (pop. 500) town in rural Victoria, Australia.
It was hard to know where to start with this block - I just knew I wanted to make it bright, and to celebrate the survival of New Orleans. So I took two very bright and busy fabrics, one from a swap, one from a top a friend found in an Op Shop. Then I added solids in the colours of purple, green and gold, the colours of the New Orleans Mardi Gras. The whole block was pieced on my 1918 hand-cranked Singer sewing machine - - it is the only one I use. I knew I wanted to use a fan, to represent Southern Belles, so that was pieced and added to a block that was pieced in the other three corners.
My first embellishing step was to tatt the black tatting and base it on gold lace. Then I worked the modified Chicken Scratch up the centre of each ray of the fan, and decided this represented the balconies I am told are in the French quarter in New Orleans. I worked all the seams on the main part of the block in purple, green or gold metallic threads in herringbone with a back cross. I decided the pattern was so busy I needed to keep seam treatments on the main part of the block simple.
After that I converted an old filet crochet iris pattern, and worked it in one corner with waste canvas. Not botanically correct, but it is there to represent the Louisiana iris. Then I started adding the ribbon roses and wisteria on the tatting, and worked the seams on the fan to represent their stems.
Next I worked the mask, using a soup of purple, green and gold beads to make the feathers on the mask, to represent Mardi Gras beads that come in those colours. I added vintage silver beads in the Chicken Scratch of the fan. Following that I worked the treble clef, outlining it first in black and then adding the gold beads.
Finally, I beaded (and extended) the pattern between the mask and the treble clef, and added some embellishments - the vintage clip reminded me of the iris and of the blue "burst" below it. The gold fan is also for the Southern ladies, and a tiny Bluebird of Happiness has been added nearby. There is a small blue gemstone Heart, for compassion, and my signature at bottom right.
My last step of all was to tatt the pink tatting for the centre of the fan, work some gold chain-stitch (with a sparkly), and then add five small cultured pearls.
I hope that, wherever this block goes, that it and its companions somehow show that people all over the world care for other people, without worrying about borders or politics. Simply that we care.
Linda Barraclough has been crazy-patching for over ten years, and has used it as a medium in a number of community projects. Her blog is Chloe's Place
© Linda Barraclough