Bags of fun challenge
Maureen Curlewis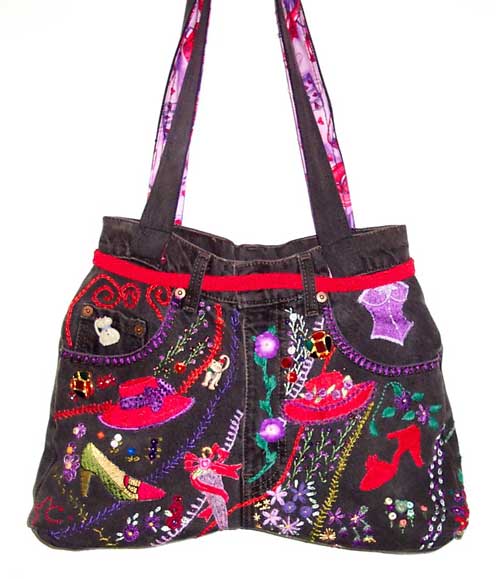 When I started my first BoF I had in mind a confection of soft pastel colours featuring butterflies super imposed on a background of flowers and stems which would comprise embroidery, beads and buttons.
However, somewhere along the way I decided to flaunt my "growing old, disgracefully" tendencies, and with the help of a machine embroiderer friend who constructed the red hats, umbrella and Miss Maude on the back pocket with her magical machine, my tribute to the Red Hat Society took over!
I kept as far as possible, to a red and purple theme and embellished flowers and vines in curves that echoed the pocket shapes on the front. I've used crewel wools, polyster punch needle threads, DMC Madeiras and even DMC stranded cottons.
Being a cat lover, who has at least one cat lurking somewhere in each of my CQ pieces, if you look closely, you'll find three on the front of the bag.
Because I was aware of how the rear of any bag rubs against the body I didn't do much work on the bag's back: Only a feisty lady peering out of one pocket,a red hat on one pocket and a basket on the other.
A few vines and flowers relieve the bareness of the remaining panels.
Some red braid goes through the waistloops and the lining of the bag and straps is a Red hat fabric from a chain-store.
I used a small rectangle of Timtex to stabilise the base of the bag and added a couple of internal pockets in the lining.
I have found it a most convenient bag for general use, and not as heavy as I thought it would be.
I must now complete the "butterflies are free" bag and make 2 others, but, trust me, they wont have as much handwork as this one did!
Maureen Curlewis 's blog Kenmaurs Corner
©Maureen Curlewis