Crazy quilt 8 inch blocks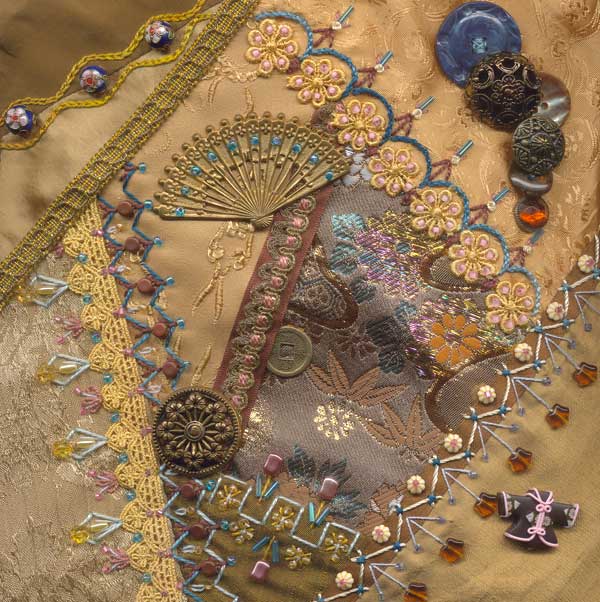 Stitches used and information about this Crazy quilt block.
Firstly the block is an 8 inch block made up of a foundation of silks, Chinese brocades and some fabrics were acquired in swaps with fellow quilters.
In the top right hand corner is a cluster of vintage buttons. The small orange one is a glass button given to me by a woman who I befriended in my twenties. At the time she was in her nineties and she taught me much about stitching. The seam treatment directly below that is a line of stem stitch worked in hand dyed thread which is the same weight as DMC pearl 5. This row of embroidery is topped with three straight stitches and a french knot and bugle bead. Hand dyed lace floral motifs are beaded to follow the lines in the motif.
In the top left hand is a row of cloisonné beads with two curved rows of chain stitch worked in DMC pearl 5 thread below that is a seam covered with hand dyed lace. This seam was extended with a combination of arrow stitch, straight stitches , French knots, and detached chain.
The bottom left hand corner is ribbon covered with tied herringbone worked in a silk thread received in a swap. This has been further enhanced with straight stitches and beading. The little charm was found in a market when I visited China it is made of Fimo and incredibly fine.
< < < Back . . . . . . Gallery Index . . . . . . Next > > >
If you have just landed in the middle of this site via a search engine these 8 inch blocks for a crazy quilt currently in progress. It is for a crazy quilt that has an emphasis on combinations of hand embroidery stitches and a variety of seam embellishments. if you are interested in combinations of stitches for seam embellishments on crazy quilting projects you might also enjoy some of the links under crazy quilting in the side bar and Crazy quilt Seam treatments which are diagrams for seam embellishments and as a reference you can use the Stitch Dictionary. You may enjoy another crazy quilt I have made titled I dropped the button box. There are also other Crazy quilting projects on the site as well. For a full run down on what is available here see the About this site page.