All That Jazz a Katrina survivor fundraiser
Marty Trahan: Winners block!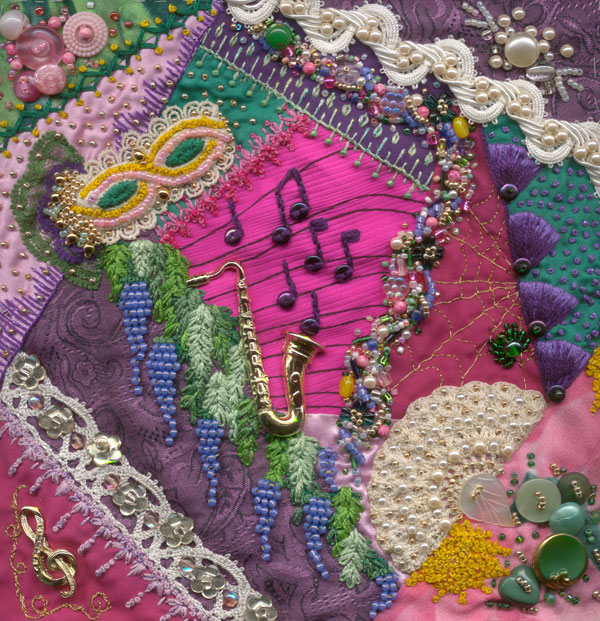 Marty Trahan: statement
" To me, this block incorporates many symbols of New Orleans and the Gulf Coast that were ravished by Hurricane Katrina.
The Mardi Gras mask, with it's lace and beads, contains the traditional colors of purple, green and gold, while the trail of beads around the center block brings to mind the raucous joy that is the Mardi Gras parade.
The jazz saxophone allows a drift of notes to float through the center block, itself symbolizing the musical staff, as a golden treble clef continues the musical theme in the lower left corner.
Pearls, fans and white lace epitomize the grace and gentility of the old south that can still be found in the hospitality that resides there, and the drape of wisteria brings to mind the languid warmth and natural beauty of
the Louisiana and Mississippi coasts.
Additional beads, buttons and metallic threads that glitter and gleam symbolize the sparkle that the name New Orleans brings to the eyes and hearts of anyone who has ever visited her.
Lastly, the colors and textures of the fabrics bring together all these different parts, symbolizing the warmth, beauty and joy that always has been, and will be again, the coastal culture of Louisiana and Mississippi. "
To see more of marty's work visit her flickr site
©Marty Trahan