Bags of fun challenge
Linda Barraclough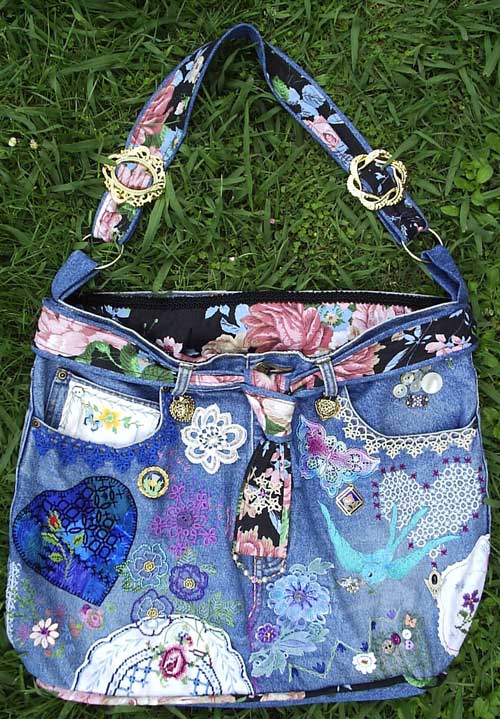 Design-wise I didn't do anything, just kept thinking "What do I want to play with next". I was in Chicken Scratch mode, and did some freeform Chicken Scratch in black on the blue heart, and then appliqued it on. Then I did the bluebird, and put a Chicken Scratch Heart around it.
And I could have kept going forever, except it had a deadline for the bags of fun of four days' time.
So I made up a base, and sewed that in. Then I made an insert that was about the same size, cut from template plastic, and covered it in fabric (so it wouldn't cut through the bag). Then I added a hidden pocket in behind the zip.
After that I made an internal "bag" with pockets, to line it. The black braid is to cover the stitching there. Sewed straps and attached them with gold plastic buckles (from Spotlight). I wanted to be able to detach the strap to wash it if necessary.
The belt is tied like a men's tie, so if I want to close the bag I just pull one part of it, and it closes.
And that was it. Except there was not quite enough fabric in one pair of jeans (lining base, envelope for plastic, belt, strap), so I had to cut into another pair of jeans. I have the top of them left. Just looking at them, they would make a nice bag .......
Visit Linda Barraclough's blog Chloe's place
© Linda Barraclough