Bags of fun challenge
Emmy Schoonbeek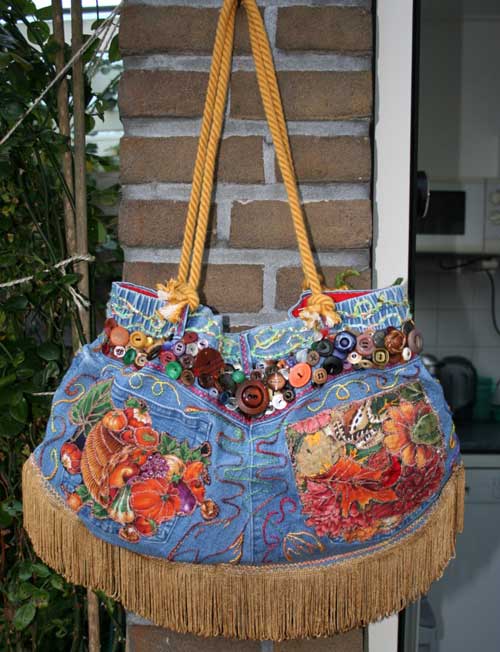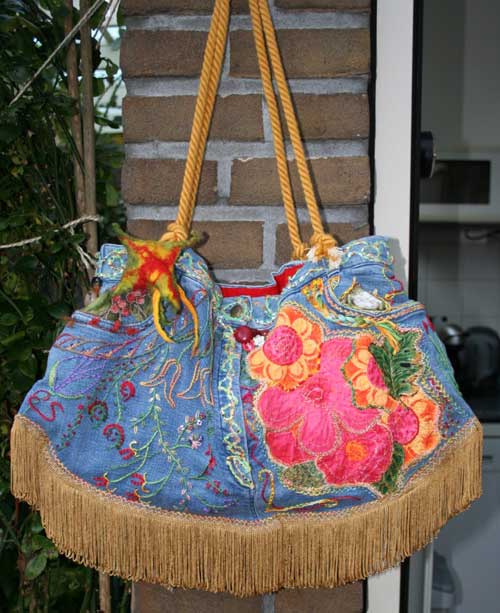 Hello here is my second bag, my first is turned out to be a skirt my daughter who is very pleased with it. So I made two bags, but never the less.
On my second bag I tried something else. I took some fabric with large prints and cut out the prints, and then reorganised the prints and machine embroidered the peaces together again. On the front of the bag, the colours are of spring and on the back autumn. I took all of my buttons and covered the back in buttons. I embroidered the bag with flowers.
The lining is red cotton and the straps are yellow cord I found in my old junk. I got a felted thing of a swap I made with Harvest moon and I liked the colours so I put it on the bag. The fringes on the bottom I put them at first this was not so good for the work I had to do but I wanted to be sure it was a bag and not something else. It was so much fun to do this and I have had so many nice responses, and I have a beautiful bag and my daughter a beautiful skirt.
Visit Emmy Schoonbeek's Personal Website
©Emmy Schoonbeek