Bags of fun challenge
Cherie Thompson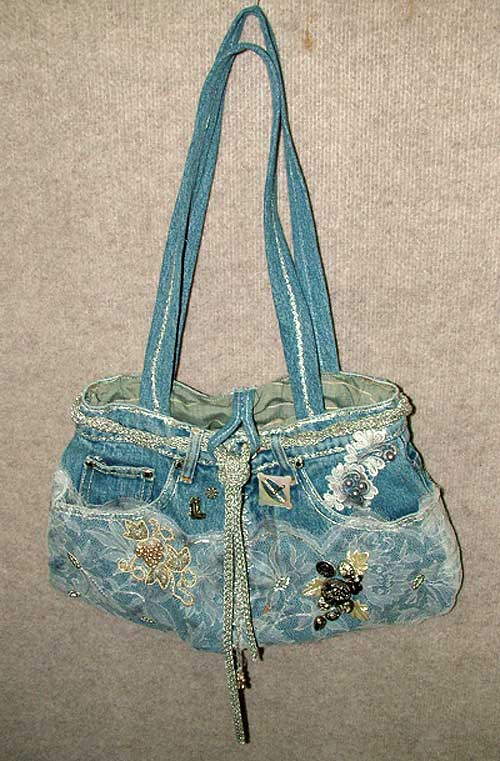 "DENIM & LACE"
While researching Prostate Cancer via The Prostate Foundation of Australia website as the fundraising recipient for the Southern Cross Crazies Retreat at Nowra in November 2005 I read that a favourite 70s pop star had been the performer at the Foundations Celebrity Lunch in September 2005. The artist was Marty Rhone. He'd set girls hearts a flutter in August 1975 when he released the song "Denim & Lace". The song stayed in the charts for three weeks, a record for that era. A light bulb moment occurred ~ an idea was hatched.
Fortunately some very beautiful fine vintage scalloped French lace, vintage pearl and silver beaded motifs, old pearls as well as mother of pearl leaves and buckles had found their way into my stash. Size 10 jeans were discovered for $1 in an op shop.All things silver such as threads, charms and rick rack along with silver vintage buttons plus silver cord were retrieved from my stash. "Denim & Lace" was conceived.
The lace was lightly dyed with Ozecraft Dyes in an attempt to gain a silver hue. This was not completely satisfactory. After splodging the lace a few times the effect began to appear. The lace was the perfect size to cover from the front to the back of the bag
in one piece, seamed only at the sides. Sewing was a little difficult as the bag was constructed with the base already sewn closed. The lining is a greyish, striped, silk, remnant that complimented the colour of the denim and the silver embellishing. Within nine hours "Denim & Lace" was born.
My granddaughter covets this gorgeous bag. She constantly reminds me "Christmas is coming MaMa". Can I part with "Denim & Lace" or will she find a bag inspired by another Marty Rhone hit from 1977 "A Mean Pair of Jeans" in her Christmas stocking?
Find out if I become the MaMa of the year at my very new blog Redzthreadz
©Cherie Thompson