Bags of fun challenge
Jacqui Mulcahy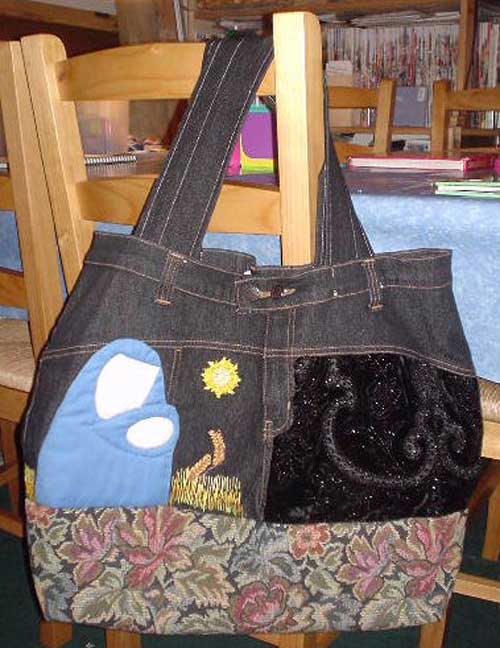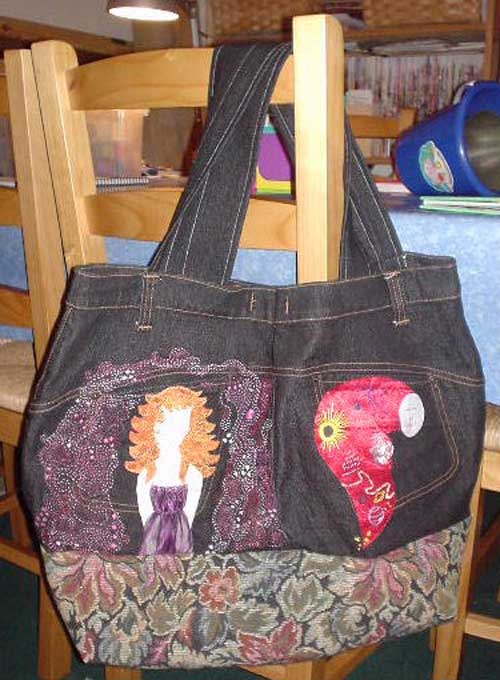 It seemed to make itself, ideas popping up as I went along. The maiden figure and the madonna/mother are padded applique and the wise woman is bondaweb onto the bag.
This was my first attempt at so many things, shisha mirrors for one, but most significantly at designing an image on paper and then transferring that into fabric. A revelation to me that I can do such a thing! So I need never follow someone elses pattern again, I'm sure I will :-) but I don't HAVE to. I also used waste canvas for the first time.
This bag is HUGE - the one thing I would change if I were to make another bag like this is to start with a smaller size pair of jeans - these were a 20 UK and that left me with a wide shallow shape which I didn't like for the finished bag. Next time it's a size 10! This one is not just big enough for the baby changing gear but the baby too :-)
The embroidery is all done with stranded Anchor threads just because these are what I have lots of from my cross stitch days.
The most significant achievement for me as part of completing this challenge is the growth in my confidence and my realisation that in the end all that matters is that I am happy with what I sew - and I am. :-)
Jacqui Mulcahy Flickr photos
©Jacqui Mulcahy