Crazy quilt 8 inch blocks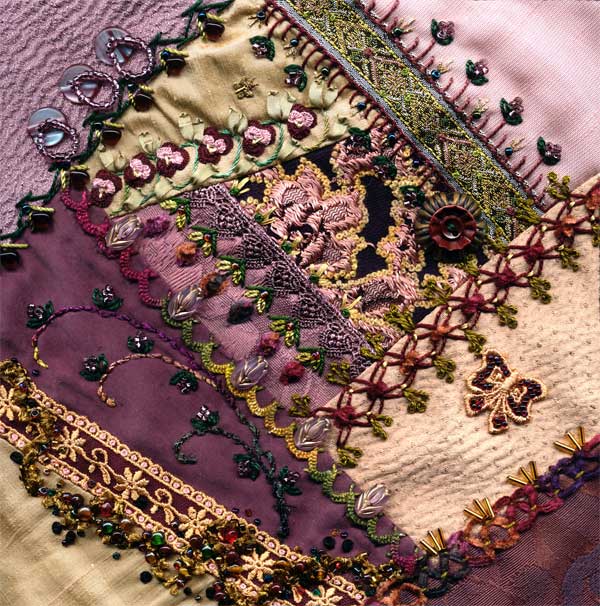 Stitches used and information about this Crazy quilt block.
This 8 inch block is worked on crazy patched foundation of synthetic and natural and recycled fabrics. The yellow section in the bottom left hand corner is silk. The burgandy fabric in the left hand corner is cotton. The yellow section at the top and the pinkish section in top right hand corner are both silk. the rest are synthetic after 5 dress fabric. All the fabrics in this block are from swaps with fellow quilters. The lac, including the beaded bow were hand dyed by me. The three buttons in the top left hand corner are plastic the button on the left is actually two buttons. A smaller button is placed on top of a larger flat button.
Above the trail of beads that wander over a band of lace diagonally across the block is a row of herringbone which has been covered with detached buttonhole using the bars of the herringbone as a foundation. The thread is hand dyed cotton with a strong twist. Below is a floral motif that has couched stems using a textured yarn recieved in a swap. Two rows of zig zag chain point towards the right worked in DMC cotton pearl 5. At the centre of each is oyster stitch worked in chenille thread. In the top left area a row of pansys are worked in two strands of DMC floss using cast on stitch above stems worked in stem stitch. Chevron stitch sits above that which has been further decorated with straight stitches. A strip of ribbon in the top right hand corner is edged with berwick stitch and detached chain forms the base of a floral decoration worked in beads. In the bottom right hand corner is a row of double running stitch which has been stepped and threaded with chenille thread.
< < < Back . . . . . . Gallery Index . . . . . . Next > > >
If you have just landed in the middle of this site via a search engine these 8 inch blocks for a crazy quilt currently in progress. It is for a crazy quilt that has an emphasis on combinations of hand embroidery stitches and a variety of seam embellishments. if you are interested in combinations of stitches for seam embellishments on crazy quilting projects you might also enjoy some of the links under crazy quilting in the side bar and Crazy quilt Seam treatments which are diagrams for seam embellishments and as a reference you can use the Stitch Dictionary. You may enjoy another crazy quilt I have made titled I dropped the button box. There are also other Crazy quilting projects on the site as well. For a full run down on what is available here see the About this site page.