All That Jazz Katrina fundraiser blocks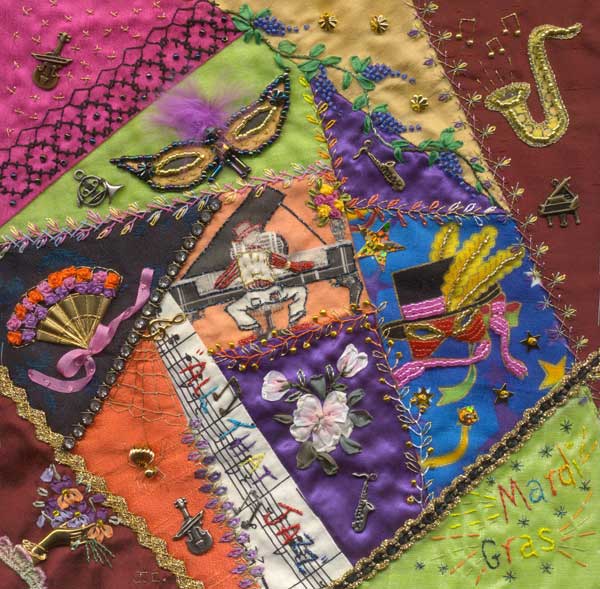 Julia Camilleri
Julia Camilleri: statement
When I received your email inviting me to make a block for the Katrina quilt, first of all I was surprised, then I was excited and felt honoured to have been asked.
When I thought about the block, the theme being "All That Jazz" I thought of bright happy cheerful colours, happy people, jazz music, and carnival. I thought of the Deep South, Louis Armstrong, the saxophone and the Mardi gras. A dear friend of mine, whose husband is a musician lent me an old music book with the piano player on the cover, I scanned the pic and printed it onto fabric for my centrepiece. After a bit of research, I learned that the magnolia is the State flower, and wisteria is grown there, so a beaded wisteria grew on my block, beautiful wrought iron lace on the buildings, so of course I had to incorporate that on the block. Pansies being for thoughts, I added an out stretched helping hand holding a posy of pansies to let everyone know that we are thinking of them I added a fan for the southern belle's, and the traditional gold spider for good luck. I beaded two Mardi Gras masks and added musical instrument charms.
This is going to be an amazing quilt, and I can't wait to see it all put together. My best wishes for the auction, for such a good cause.
Julia Camilleri is a prize winning Australian crazy quilter who has had her work published in publications such as the Australian Embroidery and Cross Stitch magazine (making the cover on Vol11. No.8) Julia keeps a blog called Camille's Place
©Julia Camilleri