Crazy quilt 8 inch blocks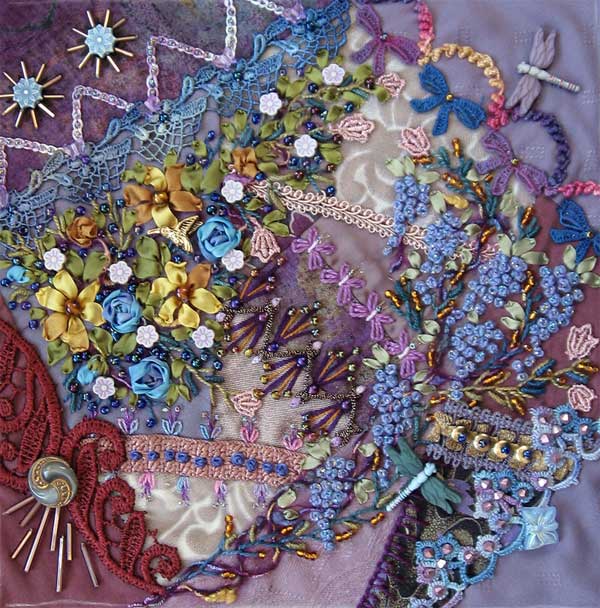 Stitches used and information about this Crazy quilt block.
Firstly the block is an 8 inch block made up of a foundation of silk, polyester satin and velvet. Most of the fabrics were acquired in swaps with fellow quilters.
On the left side is a spray of silk ribbon embroidery. As a foundation couched down a rough textured wool which you can just see appearing betwween the silk ribbon flowers. At the base of this spray is a vintage button highlighted with some large bugel beads.
The Wisteria spray also has a foundation couched down a rough textured wool and is worked in a fine knitting wool with a metalic thread twisted in it. Feather stitch topped off with bullion stitches on both sprays fills out the motifs.
Tatting has been embellished with beads and the row of small butterflies worked DMC pearl cotton is made with a variety of chain stitch.
< < < Back . . . . . . Gallery Index . . . . . . Next > > >
If you have just landed in the middle of this site via a search engine these 8 inch blocks for a crazy quilt currently in progress. It is for a crazy quilt that has an emphasis on combinations of hand embroidery stitches and a variety of seam embellishments. if you are interested in combinations of stitches for seam embellishments on crazy quilting projects you might also enjoy some of the links under crazy quilting in the side bar and Crazy quilt Seam treatments which are diagrams for seam embellishments and as a reference you can use the Stitch Dictionary. You may enjoy another crazy quilt I have made titled I dropped the button box. There are also other Crazy quilting projects on the site as well. For a full run down on what is available here see the About this site page.