Algerian Eye Stitch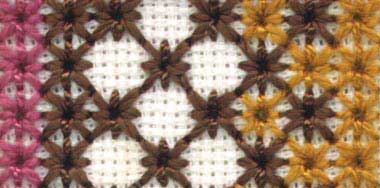 Algerian eye stitch also goes by the names of Star stitch and Star eyelet stitch.
This is a stitch often found on canvas needlework, pulled work embroidery and forms of counted thread work.
Worked on even weave embroidery fabric, it is made up of stitches arranged in a square. Work this stitch with the fabric held under tension in an embroiderers hoop or on a needlework frame. Refer to the diagram and work each straight stitch into the center hole.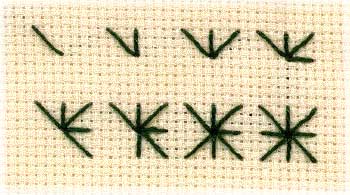 With each stitch pull the thread slightly so that the fabric distorts slightly, as it this tensioning action that creates the holes in the center of each stitch.
If you want to neaten or emphasise the central hole you can do so with the end of a knitting needle. Gently poke the end of the knitting needle into the whole to widen it a little.
It is very easy to build up interesting design motifs and patterns using arrangements of Algerian eye stitch. This needlework stitch can also be built up row upon row to create interesting border patterns on houshold items and garment.

You often encounter this stitch in pulled and drawn thread needlework and worked in combination with cross stitch. You will also frequently encounter it in old needlework samplers.
For another version see also Eye stitch which is related to this hand embroidery stitch.
The trick to neat central holes is to be sure that when you insert the needle into the fabric that the needle is taken down in the center and reappears through the fabric on the outside of the square not the other way around.
This sample is worked on hand painted Aida needlework fabric (the type most people use for cross stitch projects) in hand dyed rayon thread.
If you are interested in viewing part of a sampler that uses this stitch an image of it worked in hand dyed pearl thread on a linen foundation fabric it can be found here