Basque Stitch

Basque stitch is also known as twisted daisy border stitch. As the name suggests, this stitch is found on old embroideries from the Basque area of northern Spain. Embroideries from Portugal and southern France also make use of this stitch.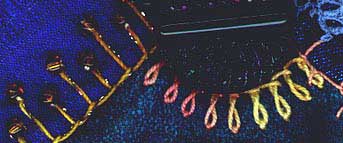 Basque stitch creates a line of twisted loops which looks good on a curved line.
Work this stitch over two imaginary lines.
Bring the thread out on the upper line, insert the needle in position on the lower line making a straight downward motion and take the thread across the needle then loop the thread under the needle point.
Pull the needle through the fabric to form a twisted loop. Insert the needle on the lower line and bring it up in a straight upward motion at the point just before the top of the loop.
Take the needle through the fabric and repeat this process along the line.
Worked in a circular manner this stitch forms floral shapes which means it can be used to pattern areas. Another tip is to attach a bead or button placed in the center of the circle is also effective particularly in crazy quilting. Small seed beads can be attached at the end of the loop or inside the loop.
Basque stitch worked in two lines back to back can look like stems of leaves which makes it useful for floral patterns and motifs.